Any organization, regardless of its size, wants to save 2 things: money and time.
Over time, technology has come to their aid with various solutions. They have proven to be excellent in this regard, either because they needed more time for other important tasks. Or maybe they wanted to remain with a bigger budget at the end of the month.
The RMM Software from Optimum Desk is only one of the many IT solutions that are willing to reduce the waste of time, but also the amounts spent unnecessarily.
This solution offers wide visibility of IT assets from the client's organization and manages them whether it is a hardware or a software component. This process is meant to control the entire IT environment with a local application and get a full overview from the dashboard.
Saving time and money are the two major benefits which are followed by others that help both the employees and the employer:
What Saves Time?
Minimized downtimes
There is no bigger threat to a company than a long downtime. Not only that your customers lose confidence in what you can offer. You can also lose money and precious time trying to fix the problem.
Why have such a thing when RMM can successfully predict and avoid it? The system is running 24/7, whenever a client needs information about his assets. It detects problems before they even appear and become a huge disaster.
Increased productivity
Another goal of implementing RMM is to boost the productivity of employees.
No organization can afford to be interrupted by a lack of productivity. It can only increase if employees are not growing and producing with it and without disruptions, the company can offer high-quality services.
With the right software and notifications from the dashboard, you avoid incidents on employee's computers and lost hours trying to fix a software error.
Complete visibility and control from one single cloud platform
No one likes to use more platforms to monitor IT systems from multiple companies. The best solution is choosing an RMM tool able to be managed from one single cloud-based dashboard.
You save the time you would have wasted juggling between platforms. Also, eliminate the risk of getting confused about which one to access when you have to verify a client's system.
What Saves Money?
Reduced maintenance
The RMM solution will take care of every regular maintenance that every IT environment requires. It is going to alert you every time an update needs to be made when security is endangered or the health system is down.
When your IT system properly works, your business is safe! RMM verifies web servers, e-mail, application components or peripherals, and the general health of the network and keeps everything safe for the whole system to work.
Save travel expenses
Let's say a technical issue came up with one of your clients from a remote area. You do not have the necessary time frame and budget to send a technician to solve this problem, but instead, you can use the RMM Software to remotely diagnose and troubleshoot.
If you limit their movement onsite, you avoid the amounts spent on plane tickets or other related travel taxes. Also, you prove more efficiency to your client by bringing fast and accurate solutions.
Improve security
As cyber-attacks increase alarmingly, the security of the IT system has become a priority in organizations, and working with sensitive information has made the safety of personal data to be the first on the list of needs.
Even if someone outside is just trying to connect to your network, without succeeding, the RMM tool can recognize the threat and stop it before becoming serious.
Eliminate human errors
RMM working together with an AI Software may be the biggest benefit for your company. We have already explained why the RMM Solution eliminates the need for technicians to go to customers to solve an issue.
More than that, some of the best solutions are already sending automated alerts and customized notifications. Most of them check the performance and status of the health system. But also provide information related to the capacity and traffic needs of the company's infrastructure.
Once with technology booming, the clients are expecting more and more from your services. The need for a proper RMM tool has become more than necessary. It is going to make the difference between you and the competition and determine the strengths of your IT services.
Moreover, it is not all about RMM Software, but also about how it works together with your other solutions.
With OptimumDesk Opteemum Remote Monitoring and Management platform designed for IT efficiency and top performance you get all the standard RMM functions plus additional benefits: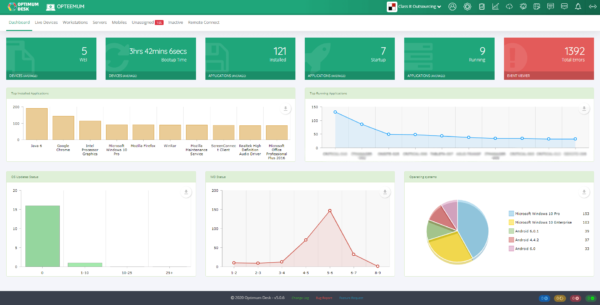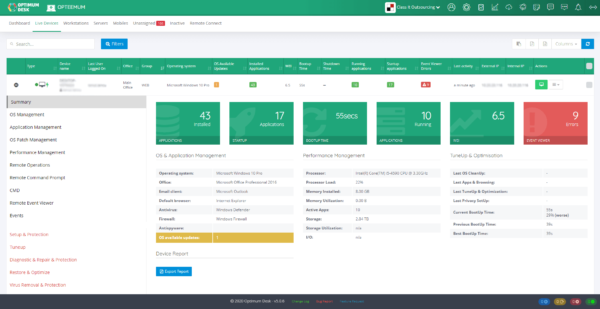 Business continuity
Avoid security incidents and downtimes
Mass Patch Management
For this reason, Optimum Desk has developed a full set of modules that empowers your IT Service Delivery.
If you want to similarly transform business operations and deliver hassle-free IT delivery, schedule a FREE DEMO call with one of the Optimum Desk's representatives.
Request a FREE DEMO