Several large companies have hundreds and thousands of assets distributed in geographically distributed locations. Keeping up-to-date information about both IT hardware and software is not only time consuming, but also frustrating and expensive.
Lack of proper asset management leads to limited asset visibility, painful compliance audits, and a long performance cycle, leading to unnecessary delays and heavy losses. Modern-day organizations rely solely on their digital infrastructure for most IT operations and services. Asset management is a major challenge from management, cost, and risk perspective.
What the proper ITAM Software should have?
Let's evaluate the parameters you need to consider before selecting the right IT asset management (ITAM) Software from a multitude of options available on the market.
Ease to use
Mobile app
Rich feature
End-to-end life cycle management
High scalability
After-sales assistance
Pre-established price
Ease to use
He always prefers software that is easy to configure and use different sets of people in different departments. The easy-to-use GUI is one of the key factors for the tool to be successful and acceptable throughout the organization. Because getting used to the software is not only time consuming, but also expensive. Therefore, it is advisable to try the software before it is actually purchased.
Mobile app
A mandatory feature is a mobile application, from where you can download and update information in time. The mobile app eliminates the need to carry your laptop on the spot and gives you the flexibility to scan your data and easily upload the same.
Rich feature
This is one of the most important aspects of the selection criteria, which should be consistent with what you intend to do with the software, as it will facilitate your teamwork. It should provide both basic features such as inventory management, automatic asset discovery, CMDB for advanced features such as vulnerability assessment and patch update alerts. The software must also meet future requirements, and the roadmap should be clearly understood.
End-to-end life cycle management
The software should assist IT teams in the end-to-end management of the asset management lifecycle from planning, acquisition, discovery, tracking, configuration, maintenance, implementation, the degree to disposal of managed IT assets in a way systematic.
High scalability
We have already established there is a multitude of devices we use today – they have a lot and therefore a solution that scale according to the needs of the organization becomes increasingly important. Besides, as IoT gains traction software vendors, it should manage new asset classes, such as sensors that will grow exponentially.
After-sales assistance
The cost and quality vary depending on the proposed plan, which can be delivered by any or all of the mentioned means, the ticketing system, e-mail, phone call, or chat. Evaluating the right asset management software on the above parameters from various vendors could be quite cumbersome, but in the long run, it will certainly pay off.
Pre-established price
The price represents another key factor that can be a transaction breaker. Estimate the benefits compared to what you pay to get the software. The best asset management solution offers price plans that extend with the added value it offers, for example, the number of assets or users or functions. Make sure the vendor you use establishes the price before implementing the software.
One such IT Asset Management Software that meets all the criteria listed above is Optimum Desk. It allows you to operate, maintain, deploy, update, and dispose of IT assets in a systematic manner. Transform IT teams more productive by giving them greater visibility and control over both hardware and software assets. Allow them to deal with everyday IT issues and problems, which helps reduce downtime, inactivity affecting businesses. Besides, it keeps a record of each asset to provide employees with the necessary equipment to complete the work.
IT asset management (ITAM) provides measurable value to the business strategy through end-to-end integration. Powered by the cloud, automation, and advanced analytics solutions, IT thrives through open collaboration. Experimental development and digital investments provide the tools and innovation necessary to forward the business.
With lost or unmanaged IT resources or IT stocks, limited visibility, painful compliance audits, ignorance and lengthy performance or delays in IT services for businesses that do not have the capacity to manage IT assets.
Working with OptimumDesk Inventoree IT asset management (ITAM) you can have all the information needed in an user friendly interface: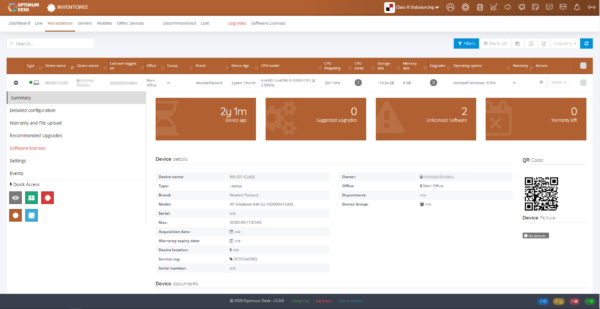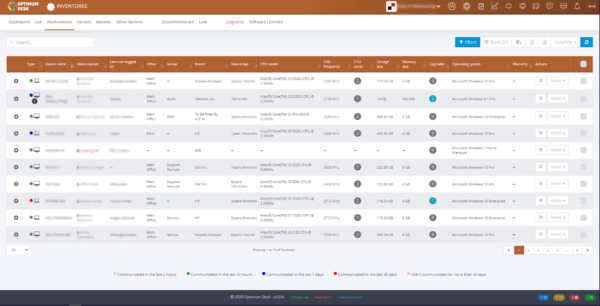 If you want to similarly transform business operations and deliver hassle-free IT delivery, schedule a FREE DEMO call with one of the Optimum Desk's representatives.
Request a FREE DEMO