A common network infrastructure consists of a variety of unique elements in addition to servers and client machines, and their monitoring is important. Monitoring devices on the network is necessary because it provides a complete picture of your network.
For example, if a firewall error allows unauthorized access to the network, you will only be able to conduct a thorough forensic investigation if firewall audit information is available. The main step in monitoring network activity and security is collecting and analyzing logs of network devices.
As an MSP, your job is not just to make sure your clients track the values from the organization, but also to add value, or to provide seamless IT services to end customers on time and make sure deliveries get to the right place you rely on on your IT systems.
RMM – Network Monitoring Software
RMM has evolved at an unprecedented pace as the business grows. The focus of IT managers is changing with the advancement of technology and how they can support and contribute to business strategy. IT monitoring is like a collection of tools created specifically to interact with each other, including storage, network devices, cloud, virtualization, and more.
RMM provides companies with remote IT support for resolving IT incidents, but also actively monitoring workstations and systems critical to the company. Monitoring prevents the interruption of users' activity and increases the availability of owned IT systems; any potential risk on workstations or servers is signaled 24/7 through a specific application, which will allow our team to provide a proactive service to ensure the availability of infrastructure and IT systems.
Prevention is better than cure
Whenever things go well, network monitoring is not a priority. But, if any of your IT services are compromised due to the degradation of IT performance or a network failure, then all network monitoring issues are important. Senior IT managers need to understand – the cause of the problem. Instead of so many problems, there is network monitoring software connected, which does not provide timely answers to recurring problems.
In fact, many professionals do not know where to start when initiating their IT monitoring strategy with/without network monitoring software. Your organization's revenue – and ultimately its survival – is based on the backbone, which is the IT network, which generates billions of values. As a managed service provider, your job is not just to make sure your clients track the values, but also to add new values to their organization. Provide seamless IT services to end customers, or to remove orders from the warehouse on time, or for making sure deliveries get to the right place you rely on your IT systems.
How does RMM work?
The monitoring system provides complete visibility into the state of the network, servers, and critical devices. It continuously queries the devices for their status and records the information to be displayed later if needed. The system provides real-time and historical information about the status of the devices.
Companies cannot afford to have critical services interrupted, they rely on the network, systems, applications, virtualization, storage, and databases to function as a unitary whole. The system automatically warns when problems occur or when a system is close to the hardware or software limit.
To prevent problems, infrastructure monitoring services have become increasingly popular in recent times. Whether they are software solutions, cloud, or implemented on location on dedicated servers, they aim to monitor parameters, which helps IT Support teams to act in time, before minor incidents become problems.
The main benefit of monitoring is that it establishes a metric and outlines a clear vision based on figures on the state of the current information system, highlighting areas of low efficiency and outlining the prospect of future investments closely correlated with the development of the company's business.
You need to have network monitoring software that can expand automatically as and when the IT environment expands. Optimum Desk RMM software can help you do just that. It is an agnostic solution provider that provides smart network topology maps, automatically detects network elements, and can help you quickly resolve network issues.
Once with technology booming, the clients are expecting more and more from your services. The need for a proper RMM tool has become more than necessary. It is going to make the difference between you and the competition and determine the strengths of your IT services.
Moreover, it is not all about RMM Software, but also about how it works together with your other solutions.
With OptimumDesk Opteemum Remote Monitoring and Management platform designed for IT efficiency and top performance you get all the standard RMM functions plus additional benefits: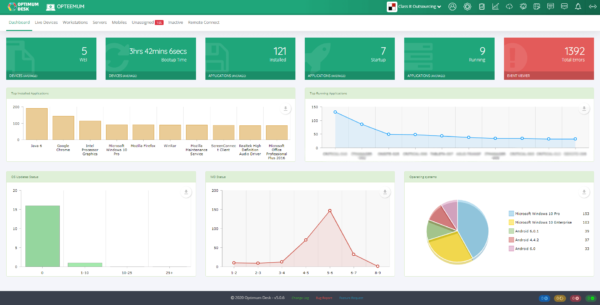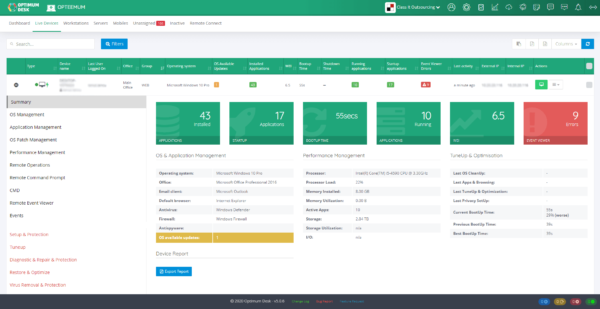 Business continuity
Avoid security incidents and downtimes
Mass Patch Management
For this reason, Optimum Desk has developed a full set of modules that empowers your IT Service Delivery.
If you want to similarly transform business operations and deliver hassle-free IT delivery, schedule a FREE DEMO call with one of the Optimum Desk's representatives.
Request a FREE DEMO