Excellence in customer relations is the basis of the success of any company. It provides support services for the products sold. If you sell products with a long life cycle, there is no doubt customers will need installation, configuration, and maintenance services. Beyond the nature and characteristics of the products, in the long run, the services you offer will become the best differentiator from the competition.
You can offer these services through IT solutions that will revolutionize the way you think about customer's problems. When you opt for the solutions you want to integrate, you have to understand very well what they do. This brings us to one of the most common problems today. The thin line that has formed between IT Service Management and IT Asset Management, although there is a big difference between them.
What is ITSM?
Business is changing and so the way customers choose computer applications has changed. IT departments need to find a way to respond to these changes. IT Services Management (ITSM) helps these organizations find the best way to provide quality customer service, helping them move from technology to service delivery. Simplifying the IT environment is the very first step because before becoming a service provider a company needs to follow how IT processes take place internally.
ITSM pursues ITIL (IT Infrastructure Library) based best practices, a set of best practices, and basic rules that help IT departments become more quickly active in an environment subject to various tactical changes. ITSM means more than reducing IT costs. One of the results may be to reduce costs and increase productivity, the goal being to provide services to organizations.
In a simple market analysis, we see that organizations have invested heavily in infrastructure, PCs, servers, networks, and applications. Relying on more technology does not solve the problems, it all depends on how you look at this technology, how you manage it to get the best results for the business itself. It is known that if something from your IT system crashes, then the whole business gets down.
ITSM efficiently exploits these investments and allows an early warning on how the IT environment works to avoid crises.
By implementing OptimumDesk AI in your ITSM, your clients can future-proof its operations and equip your IT staff to provide the best possible support. What mattered and matters most is the existence of strategies at the company level on the implementation of new technologies and the volume of investments in human capital and specific equipment.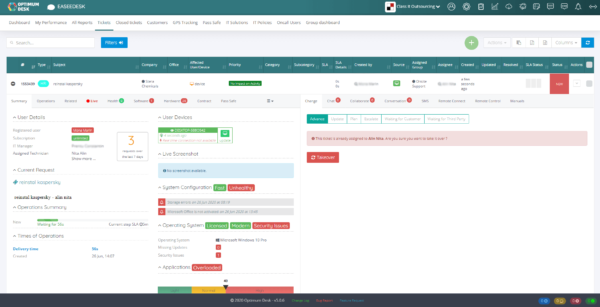 Cloud-based, ITSM solution from OptimumDesk is ready to integrate platform offering the MSP both panoramic and in-depth view of his client IT infrastructure but also provides all the tools to manage the entire infrastructure and tickets efficiently, scale support and optimize costs assisted by AI.
What is ITAM?
With ITAM Solution You can manage all software licenses in one window. Connect the software with their licenses and assign users and assets who can use the software. Gather useful statistics about software usage: tracking usage number and last time it was opened. It inventories the management of hardware and software resources within a company. The solution addresses IT managers, technical staff, and decision-makers in the management of companies. It is a very useful and easy to use tool for controlling resources and making decisions related to new acquisitions.
Similar names, or maybe ignorance of the cause may be the reasons ITAM and ITSM are usually confused. But, in fact, there are more differences than similarities between them, their functionalities, and the way they work. However, we can consider similarities in results, such as increased satisfaction and productivity, reduced time lost, and wasted budgets.
ITAM joins the physical and operational with the financial and business aspects. This idea forms the set of business practices that run under the ITAM framework for governance and operation.
Cloud-based, OptimumDesk ITAM platform offering the MSP both a panoramic and in-depth view of his client IT infrastructure but also provides all the tools to manage the entire infrastructure and tickets efficiently, scale support and optimize costs assisted by AI.
IT asset management (ITAM) provides measurable value to the business strategy through end-to-end integration. Powered by the cloud, automation, and advanced analytics solutions, IT thrives through open collaboration. Experimental development and digital investments provide the tools and innovation necessary to forward the business.
Working with OptimumDesk Inventoree IT asset management (ITAM) you can have all the information needed in an user friendly interface: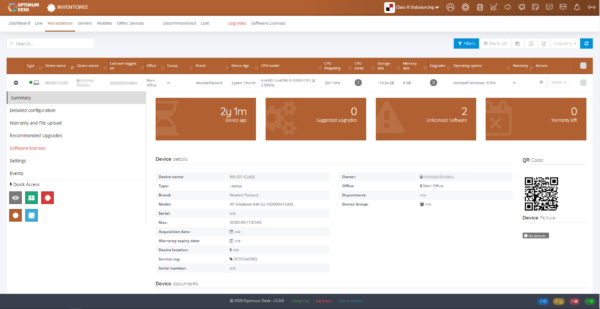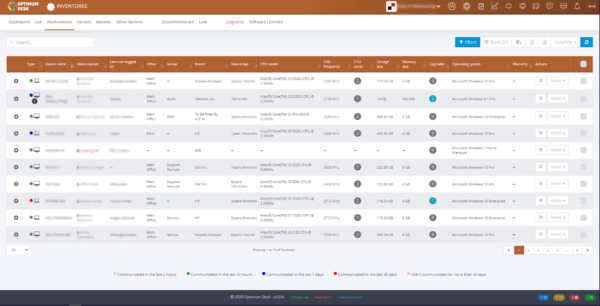 If you want to similarly transform business operations and deliver hassle-free IT delivery, schedule a FREE DEMO call with one of the Optimum Desk's representatives.
Request a FREE DEMO