Cyberattacks are becoming more sophisticated and are forcing a similar evolution in the specialization of cybersecurity officials. Applications cannot lag behind either, and companies need advanced solutions, able to ensure the protection of the entire infrastructure, but also a high level of automation.
In any field, we find business processes that, over time, become complicated, inefficient, and expensive. By using software technology, the strategy of Business Process Automation leads to the organization of staff. Systems have efficient workflows, eliminating the need for employees to perform repetitive tasks.
Proactively in-depth monitors client endpoints, networks, and computers ensure issues are remedied before they even become a problem, and gives you full customization of the alerting parameters.
What is IT Automation?
IT Automation is the key to manage diverse and complex IT environments and to deliver fast and flexible services that meet ever-increasing business requirements. By implementing complete IT automation capabilities, you get help to accelerate business processes, reduce costs, and support business innovation. Process automation helps to improve productivity and also to apply industry standards. Using IT Automation, you can automate IT processes within organizations, reduce the time required to deliver services, and enforce standards and compliance policies within your departments.
According to Cisco 2018 Annual Cybersecurity Report, 39% of organizations have already implemented solutions that integrate automation elements. The growing reliance on automation is justified by several risk factors that cannot be ignored. Because people can no longer be fast enough to take the necessary measures to detect, block, and remedy an incident. For this reason, we leave the machines empowered by artificial intelligence to decide how it is correct to proceed when it comes to a cyber-attack.
What is Remote Support?
Remote IT support allows the technician to access the computer system from instantly using secure Internet connections. The technicians who offer this type of support can sit in front of the computer on the other side of the world with the condition of the existence of an Internet connection. The user allows access to the computer to diagnose and fix problems, to install/uninstall applications, or make updates. Using this method the computer does not have to leave the office and no one has to go anywhere to fix the issue.
As a company, you can easily get this type of service through the power of RMM tools. It keeps track of the system components you use, to get alerts of failure, defects, or problems simultaneously. The solution prevents system interruptions or major downsides by identifying any non-functional components. Also, hardware and software components automatically take action to clean the system.
How can IT Automation and Remote Support work together?
Not all problems involve moving a technician to the company's headquarters. When a problem is detected, an online support session opens and try debugging on the spot. This eliminates travel times, expenses afferent, and the malfunctions of the computer system. You increase efficiency by offering remote support, completed by the automated processes.
Flexibility is critical because many employees use besides the computer from the office and laptops, tablets, and other mobile devices. Some employees use their own devices (laptop, tablet, phone) and hence the need for an IT technician who knows all these devices with a wide variety of operating systems. Remote IT support offers flexibility, convenience in use, and secure services accompanied by a history of technical support sessions. In addition to what a technician can offer, IT automation comes with 24/7 support for higher customer trust.
Remote support saves time, money, and resources, increasing business efficiency. It is a strategy that pays off and helps your business stay competitive. Most daily IT tasks are repetitive, so it is necessary to schedule recurring tasks to simplify their management. Process and IT automation lead to considerable savings in time to perform daily or scheduled operations. By using a configuration distribution system, the risk of being deleted or incorrectly modified is minimized. Thus, all configurations of the entire IT ecosystem are secure.
Remote Monitoring & Management (RMM) is proactively monitoring client endpoints, networks, and computers to prevent potential risks or downtimes and automatically identifies malfunctioning hardware or software, offering you actionable insights to keep the system running properly.
With OptimumDesk Opteemum Remote Monitoring and Management platform designed for IT efficiency and top performance you get all the standard RMM functions plus additional benefits:
Business continuity
Avoid security incidents and downtimes
Mass Patch Management
IT asset management (ITAM) provides measurable value to the business strategy through end-to-end integration. Powered by the cloud, automation, and advanced analytics solutions, IT thrives through open collaboration. Experimental development and digital investments provide the tools and innovation necessary to forward the business.
Working with OptimumDesk Inventoree IT asset management (ITAM) you can have all the information needed in an user friendly interface: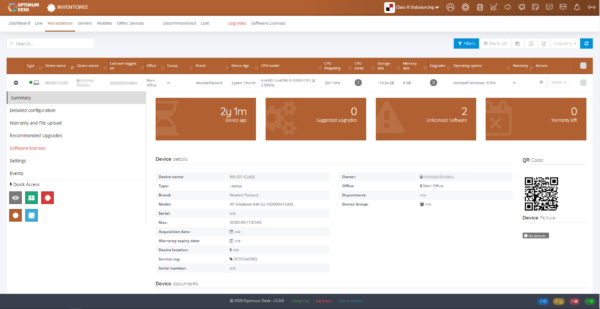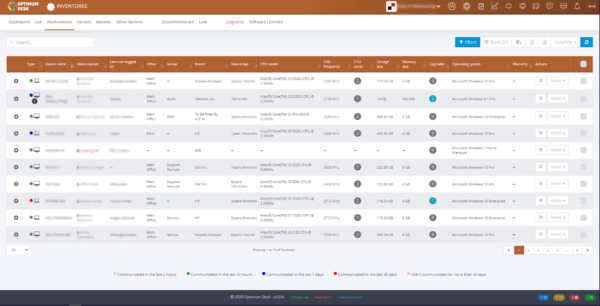 If you want to similarly transform business operations and deliver hassle-free IT delivery, schedule a FREE DEMO call with one of the Optimum Desk's representatives.
Request a FREE DEMO