Traditionally, the management of IT services has been limited to old platforms and infrastructure. Due to the lack of the process, the interaction with the IT teams was frustrating and difficult, which caused the workforce to be less employed, and the gap between the IT team and the business widens even more.
The ITSM software industry is rapidly moving at an innovative pace, and in parallel IT teams are now realizing the need for a comprehensive ITSM solution to streamline their processes. To meet these needs, Optimum Desk brings the best ITSM Solution which allows support teams to become more productive and less resource-constrained.
What is Optimum Desk ITSM doing?
Improve technician as well as employee productivity;
Minimize the risks and impacts associated with poor IT management;
Analyze IT trends and automate workflows;
Choose the number of repeated problems;
Respect service level agreements and IT compliance.
Sensitive and fluid user interface
An intuitive user interface is imperative to provide an excellent user experience for your employees. Ensures that no time is wasted in navigating the system. Optimum Desk offers a responsive and fluid user interface, built with the latest technology. The user interface has attractive pictorials and icons for a user-friendly experience.
Optimum Desk platform is equipped with an integrated self-service portal, an integrated knowledge base, and easy collaboration for the seamless provision of services. When users access the knowledge base through the self-service portal to solve the questions themselves, it is important not to get lost in the system. Therefore, a sensitive, frequently updated and glitch-free user interface ensures that the process of discovering solutions is linear for your employees.
It also provides support for capturing feedback for applicants. Through this, IT teams can track the customer satisfaction index and evaluate their experience after the resolution.
Powerful automation
IT support teams tend to spend a lot of time on low-level repetitive tasks and performing manual escalation exercises, which often end up taking longer than they would spend solving key problems.
Support teams can easily recognize problems through automated alerts and provide quick resolution through its systemic prioritization process. Because IT teams can automate smaller issues, they can focus on critical issues. This translates into shorter and shorter downtime and also mitigates the most significant risks in the management of IT services – problems that turn into permanent system damage.
One of the major bottlenecks in a troubleshooting process is the availability of the technician in compliance with the SLA. Optimum Desk automates the entire ticketing process to efficiently handle requests with configurable ticket categories, automatic ticketing, SLA tracking, and escalation procedures.
With the smart ticket allocation function, any entry ticket will be automatically assigned to the appropriate technician, depending on their experience, availability, priority, and technical capacity.
Codeless customization
An integrated ITSM solution is good to start with, but its maximum potential is only realized if the solution allows customization. The platform supports easy and code-free customizations across the entire platform to improve business processes for efficient IT service delivery.
Because no two organizations are alike, ITSM provides customized service templates that allow organizations to provide relevant information about their employee service offerings by customizing service catalogs.
Getting the right information at the right time is very critical nowadays. For this reason, ITSM solutions are equipped with built-in dashboards, so IT teams can go through the update spreadsheets throughout the day and never lose key information.
Fast deployment and remote assistance
Nowadays, due to the global pandemic, more than half of the workforce has started working remotely. It is almost impossible to manage the delivery of IT services to remote teams without a good ITSM tool.
During such unprecedented periods, ITSM platforms can make all the difference, providing fast deployment for IT digitization. After the initial implementation, powerful remote assistance can make all the difference in employee productivity. It has now become extremely important for technicians to be able to effectively support remote teams so that their daily tasks are not hampered by technical problems.
Optimum Desk is a comprehensive platform that integrates the ITSM solution. It will help you increase the productivity of your technicians, make work processes more reliable, and provide you with strategic information on potential areas of risk and growth.
By implementing OptimumDesk AI in your ITSM, your clients can future-proof its operations and equip your IT staff to provide the best possible support. What mattered and matters most is the existence of strategies at the company level on the implementation of new technologies and the volume of investments in human capital and specific equipment.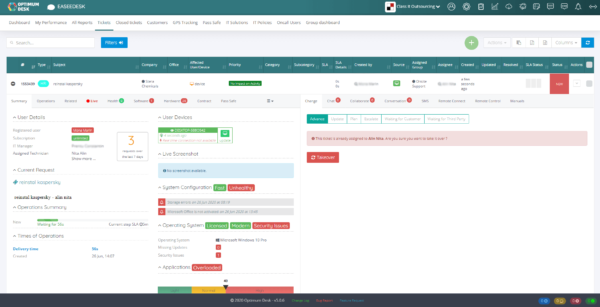 Cloud-based, ITSM solution from OptimumDesk is ready to integrate platform offering the MSP both panoramic and in-depth view of his client IT infrastructure but also provides all the tools to manage the entire infrastructure and tickets efficiently, scale support and optimize costs assisted by AI.
If you want to similarly transform business operations and deliver hassle-free IT delivery, schedule a FREE DEMO call with one of the Optimum Desk's representatives.
Request a FREE DEMO