Every company faces problems that cannot be controlled and is looking for a solution, regardless of the field of activity. This has become the norm in recent years, especially in the digital world. Digital transformation is something that every company must embrace if it does not want to be left behind. They also need to take action on inefficient employee work, not only to save time and money but also to eliminate the feeling of stress and frustration in the organization.
One of the best solutions for this problem is implementing an Intelligent ITSM tool. The intelligent ITSM tools will turn employee's workflows into productive results and the digital transformation will come naturally.
What is the difference between ITSM and Intelligent ITSM software? Well, intelligent ITSM is the tool that has been improved by AI.
Implementing ITSM software complemented by artificial intelligence is one of the most powerful tools that can save a company because autonomously it will develop new capabilities to solve problems without human intervention.
By implementing OptimumDesk AI in your ITSM, your clients can future-proof its operations and equip your IT staff to provide the best possible support. What mattered and matters most is the existence of strategies at the company level on the implementation of new technologies and the volume of investments in human capital and specific equipment.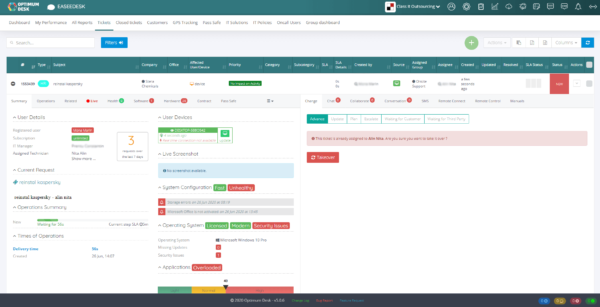 Cloud-based, ITSM solution from OptimumDesk is ready to integrate platform offering the MSP both panoramic and in-depth view of his client IT infrastructure but also provides all the tools to manage the entire infrastructure and tickets efficiently, scale support and optimize costs assisted by AI.
DIGITAL TRANSFORMATION
Digital transformation might be a problem, especially for those companies which are not used to innovate their activities. The combination of ITSM and AI tools allows companies to simplify the transition to digital transformation.
Moreover, for higher efficiency, it is recommended for each employee to change the way they approach the activities. Also, the processes carried out within the company must be changed too. A company that does not move to digital transformation is a company that has already lost a competitive advantage.
How does it work? When you encounter a technical problem, you usually contact the Help Desk by email. After that, you are waiting for someone to answer and fix your issue. Instead of that, you could log into a self-service platform, open a window to type your problem, and get the help needed right away. The Intelligent ITSM tool will return to you in just a few seconds with a solution. In the few cases where AI does not know any solution, it will call on the help of a specialized technician. Some of the ITSM software programs available on the market are more advanced than others. They are based on a ticket history system, which allows them to analyze past tickets and make a quicker decision on future ones.
The example given above is a clear method by which a common action, that of contacting the Help Desk, has been transformed by digitization. Instead of waiting for technical issues to be solved, employees can use this time for more productive activities.
EMPLOYEE'S SATISFACTION
It is already proven that employees who are satisfied in an organization are easier to keep. In this context, the evolution of technology in the workplace has a very important role.
The technicians in the help desk department are the first who have the feeling of abandoning the job when they constantly have to do boring tasks such as changing/resetting user's passwords or restart computers.
An Intelligent ITSM tool will help them get rid of these usual activities and focus on others. It is critical that an employee has the right answers when he needs them, and while technicians may not be all responsible for each service, this is where Intelligent ITSM shows up to implement the necessary tools
EFFICIENT WORKFLOWS
We all know that manual processes do not have the same impact on efficiency as the automatic ones. Stop wasting valuable time waiting for troubleshooting get done or getting an answer from the Help Desk team. In 2015, a study made in the UK showed 50% of employees are wasting at least 3 hours every day waiting for technical support. This is showing an inefficient system of working. Considering this, a company may lose 28.000 $ in a year.
If the waiting time of the employees is reduced, the efficiency is increased and the profitability will be shown immediately. This is the time an Intelligent ITSM tool shows up and allows employees to get back to their tasks faster.
Optimum Desk successfully combined AI *Adam) with ITSM and the results came immediately, as expected. Users' satisfaction increased, inefficiency was reduced, almost eliminated and it helped with digital transformation. If you are an MSP that wants to offer high-quality tech solutions for your clients, then you are in the right place. You have just found a platform that innovated on ITSM software and many others.