To achieve results commensurate with your potential, your company must continue to reduce the gaps with competitors. Any lag in the IT sector or another influences the overall results.
We are therefore dealing with a process that requires entrepreneurs to have a strategic vision. Without this, resources cannot be managed efficiently. And, as resources are, by their nature, limited, no genuine entrepreneur can afford to waste them.
If you want to be better, you must differentiate yourself from the competition. That means you must offer better services, by implementing tools and features that offer a great customer experience.
ITSM is a good solution to start with, but is it enough today? Is there something that makes this service more efficient and smarter?
AI Implementation
Technologies, applications, and devices based on artificial intelligence (AI) have long been highly mature in the market. The possibilities and developments that are based on it generate heated discussions. Whether it is human-machine communication, the analysis of large volumes of data and texts, or the evaluation of situations and processes.
When we talk about artificial intelligence, we immediately think of state-of-the-art technologies. We think about robots capable of understanding and deciding the actions to be taken. This is a futuristic world in which machines and man coexist. This is exactly how AI works with an ITSM system: not only does it categorize tickets by itself, but it can also solve a large part of them.
How AI Makes ITSM SMARTer
There are more ways than AI makes ITSM smarter. From analyzing the past tickets to detecting issues and proactively fix them. It automatically suggests upgrades and checks the life cycle of assets to make sure everything is properly running.
Using AI technologies, computers learned how to solve specific tasks, processing large amounts of data, and recognizing certain patterns. AI develops automation processes when it comes to the ITSM solution. This in turn determines new opportunities for businesses. Of these, we note some technologies that will affect a wide range of industries.
Nowadays, autonomous is considered one of the powerful tools in the IT world. It has the capacity of turning screenshots into tickets, or even guess the problem if he has a clue.
AI and ITSM in the future
Artificial Intelligence is already in our world, in everyday life. Less visible today, tomorrow they will be everywhere. They feed on data and information that we provide, do actions that we want, or are afraid of.
It was expected that the idea of having such intelligent IT Solutions would have resulted in the creation of even more intelligent weapons. This is not going to replace the workforce of human beings. AI cannot survive in a world without IT experts and technicians. It is going to continue helping them in improving the environment.
As the ITSM tools are more and more efficient and permanently improving the IT environment, AI will be a huge part of its evolution. By learning from past support tickets, AI allows technicians to focus on more important things. It solves tickets without human intervention, silently and unattended, eliminating human errors.
By implementing OptimumDesk AI in your ITSM, your clients can future-proof its operations and equip your IT staff to provide the best possible support. What mattered and matters most is the existence of strategies at the company level on the implementation of new technologies and the volume of investments in human capital and specific equipment.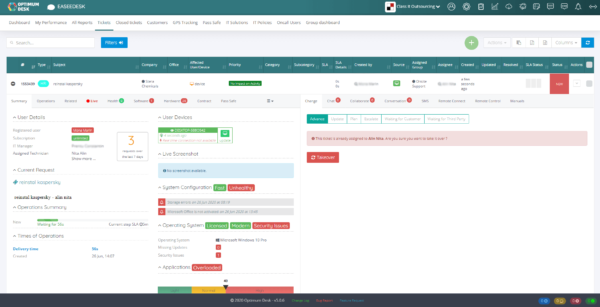 Cloud-based, ITSM solution from OptimumDesk is ready to integrate platform offering the MSP both panoramic and in-depth view of his client IT infrastructure but also provides all the tools to manage the entire infrastructure and tickets efficiently, scale support and optimize costs assisted by AI.
If you want to similarly transform business operations and deliver hassle-free IT delivery, schedule a FREE DEMO call with one of the Optimum Desk's representatives.
Request a FREE DEMO